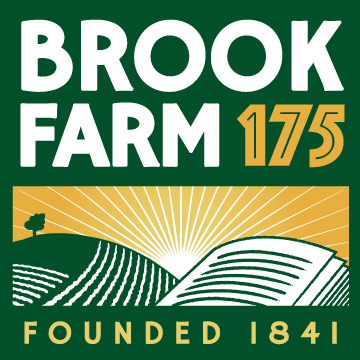 Join us for a month of events celebrating the quartoseptcentennial of the founding of the Brook Farm Institute of Agriculture and Education in 1841 in West Roxbury. All events are free, and refreshments are provided. Donations are welcome.
Walk Through History: Brook Farm and Pulpit Rock
Sunday, October 2, 2:00 to 3:30 p.m.
Brook Farm Historic Site, 670 Baker Street, West Roxbury, 02132
The Brook Farm Historic Site has changed dramatically since the days of the influential transcendentalist community in the 1840s, but traces remain to be explored.
New Brook Farm board member and historian Jessica Mink will lead the walk.
Brook Farm Then and Now: Reception and Exhibition
Thursday, October 6, 6:00 to 7:45 p.m.
West Roxbury Public Library, 1961 Centre Street, West Roxbury, MA 02132
Join New Brook Farm for a reception and exhibition to celebrate Brook Farm's 175th anniversary. The exhibition will run through October during regular library hours.
Focus on Brook Farm II: Photography & Artists' Outing
Saturday, October 15, 2:00-4:00 p.m. | Rain date Oct. 16
Brook Farm Historic Site, 670 Baker Street, West Roxbury, 02132
Photographers and artists of all ages, media, and skill levels: Come out to explore and capture images with camera, sketch pad, and brush. Roslindale photographer Christoph Gervais will provide tips on taking outstanding photos. Brookline Bank will host an exhibition of works this winter.
The Women of Brook Farm
Sunday, October 23, 3:00 to 5:30
Theodore Parker Unitarian Universalist Church, 1859 Centre Street, West Roxbury, 02132
Reception will follow the program.
Come meet eight remarkable women who were members of or frequent visitors to Brook Farm. New Brook Farm and the Boston Women's Heritage Trail have created this reenactment to raise awareness of the important roles women played in the Brook Farm experiment. In the beautiful sanctuary of Theodore Parker Church, members of NBF and BWHT portraying the Brook Farm women will speak from the same pulpit from which Rev. Theodore Parker preached to many of the original Brook Farmers in the 1840s.