1804-1894
Source: "Elizabeth Palmer Peabody" Britannica Online Encyclopedia @ http://www.britannica.com/biography/Elizabeth-Palmer-Peabody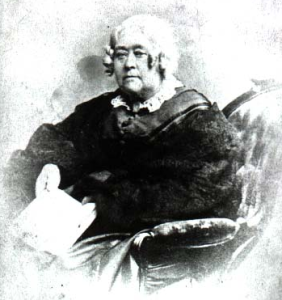 Elizabeth Peabody was the first of three daughters born to Eliza and Nathaniel Peabody. The family struggled financially and moved frequently. Elizabeth was educated by her mother, who for a time operated an innovative girls' school in the home, and from an early age she exhibited an interest in philosophical and theological questions.
In 1837 Elizabeth became a charter member of the Transcendentalist Club, members of which included Margaret Fuller, Ralph Waldo Emerson, William Ellery Channing, and Bronson Alcott. On visits to Emerson and the others she introduced her Transcendentalist friends to the work of the Salem poet-mystic Jones Very and the writer Nathaniel Hawthorne, who had married her sister Sophia (another sister, Mary, married Horace Mann).
In 1839 Peabody opened her West Street bookstore, which became a sort of club for the intellectual community of Boston. On her own printing press, she published translations from German by Fuller and three of Hawthorne's earliest books. For two years she published and wrote articles for The Dial, the critical literary monthly and organ of the Transcendentalist movement; she also wrote for other periodicals. She was probably the first woman book publisher in America. Peabody closed her shop in 1850 and for the next 10 years taught school, wrote, and worked to promote public education. In 1859 Peabody learned of Friedrich Froebel's kindergarten work in Germany and opened the nation's first formal kindergarten in Boston in 1860. Much of her later writing concerned kindergarten education.