1810-1850
Sources: Biography.com @ www.biography.com/people/margaret-fuller-9303889 and the Boston Women's Heritage Trail website @ bwht.org/brook-farm/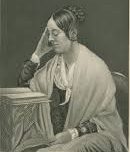 Feminist, writer, and literary critic Margaret Fuller was born in 1810 in Cambridgeport, Massachusetts. Her intellectual precociousness gained her the acquaintance of various Cambridge intellectuals, but her assertive and intense manner put many people off.
Her father moved the family to a farm in Groton, Massachusetts, in 1833. There she was forced to help educate her siblings and run the household for her ailing mother. After visiting Ralph Waldo Emerson in Concord, Fuller taught for Bronson Alcott in Boston from 1836 to 1837, and then at a school in Providence, Rhode Island. Moving to Jamaica Plain in the 1840s, she conducted her famous "Conversations" that attracted many prominent people from all around Boston from 1840 to 1844.
Margaret Fuller, Emerson and others founded The Dial, a journal devoted to Transcendentalist views, in 1840. She became a contributor from the first issue and its editor. She made the first of many visits to Brook Farm in 1841, though the idea of communal living and putting community above the individual did not sit well with her. In 1844, Horace Greeley invited her to be literary critic at the New York Tribune, and she published her feminist classic, Woman in the Nineteenth Century, the following year.
In 1846 she went to Europe as a foreign correspondent for the Tribune. Traveling to Italy in 1847, Margaret met Giovanni Angelo, the Marchese d'Ossoli, ten years younger and of liberal principles. They became lovers, had a son in 1848, and married the next year. Involved in the Roman revolution of 1848, Fuller and her husband fled to Florence in 1849. They sailed for the United States, but the ship ran aground in a storm off Fire Island, New York. Their bodies were never found, but that of their infant son was recovered. A memorial to Fuller and her husband was erected in Mt. Auburn Cemetery, and their son is buried there.