1803-1861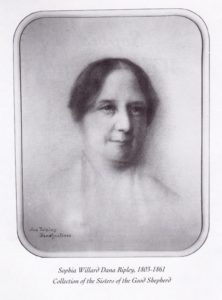 Sophia Dana was born into Cambridge society in 1803. Her paternal grandfather, Francis Dana, was Chief Justice of the Massachusetts Supreme Court and former minister to Russia. Her mother, also named Sophia, was the daughter of President Joseph Willard of Harvard. Despite the frequent absence and financial ruin of her father, Sophia was raised among well-educated relatives and learned French, Latin, and Greek at Dr. Park's School in Boston. After her graduation, she and her sister Mary Elizabeth supported their family by running a boarding and day primary school for girls, and a few boys such as later-poet James Russell Lowell, in Cambridge. She also gave historical lectures to local women, much as Margaret Fuller did later.
In 1827, Sophia married Unitarian minister George Ripley after a relationship of several years when he was assured of a livelihood by being asked to preach at the Purchase Street Church in Boston. In 1836, the couple hosted the first meeting of the Transcendental Club, dubbed so by a reviewer of Emerson's "Nature" who noted that the members agreed "in nothing but their liberality." Other female members included Margaret Fuller, Elizabeth Peabody, and poet Ellen Sturgis Hooper, in addition to a few well-known men such as Henry David Thoreau, Ralph Waldo Emerson, Bronson Alcott, Orestes Brownson, Theodore Parker, and William Henry Channing.
In 1838, the Ripleys traveled west to Ohio and visited the Zoar community, where Sophia evaluated the values and deficits of one type of communal life. The summer after the death of her mother in 1840, Sophia and George retreated to Brook Farm, a milk farm in West Roxbury. That fall, George resigned from his pulpit, and the following April, the Ripleys and friends moved back to the farm to create their own version of an ideal society. The Ripleys purchased the property in October 1841.
During the Brook Farm years, Sophia worked long hours in the laundry, at the ironing board, in the sewing room, and running the school. Sophia withdrew a bit with the Fourierization of Brook Farm, and in 1846 became seriously interested in Catholicism, feeling that the Transcendentalist search for Beauty did not reach the deeper Truth she desired. Over the winter of 1847-48, the Ripleys moved to New York, where George got an editorial job and Sophia translated spiritual writers from the French. She volunteered in hospitals, prisons, and asylums, and worked to bring the Sisters of the Good Shepherd, an order of nuns which would work with the young women she encountered, acting as one of them until the convent was established. She died of breast cancer on February 4, 1861.