Saturday, November 2, 2019 (rain date November 3)
2:00 – 4:00 pm
Brook Farm Historic Site, 670 Baker Street, West Roxbury
We're launching our fifth Focus on Brook Farm photography and artists' outing with a special guided walk with Thoreau re-enactor Mr. Richard Smith.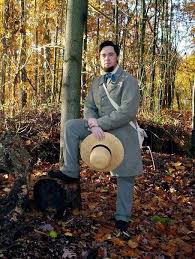 Henry David Thoreau never lived at the Brook Farm community and only visited it once, in 1843. But he knew, and was friends with, many of the community's members and frequent visitors, including Margaret Fuller and Nathaniel Hawthorne.
Step back in time as Henry Thoreau once again visits Brook Farm! Portrayed by historian Richard Smith, Mr. Thoreau will lead a walk around the Brook Farm site, discussing his life in the 1850s and his friendship with the Brook Farmers.
Please wear sturdy shoes, long pants, and long socks (to tuck your pant legs in) as we may venture off the paths.
The walk will begin promptly at 2:00 pm.